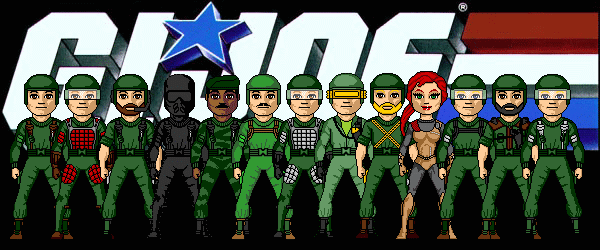 Welcome to the G.I. Joe Microheroes Wiki
[
]
Characters from the G.I. Joe universe in microheroes form. Everybody can contribute
G.I. Joe Microheroes
[
]
The G.I. Joe Microheroes is a collaborative project to illustrate the G.I. Joe Universe in micro-heroes form. This Wikia includes all licensed works (TV Series, Films, Books, Comics, Video games, ect.). The characters in this Wikia were all created by fans in loving devotion to the G.I. Joe characters.
PLEASE feel free to browse, or better yet, CONTRIBUTE!!! :)
---
This project contains 190 articles and 885 images.
---
A big thank you to Major Justice the great artist who created about half of those micros.
You can see his work at: http://home.comcast.net/~majorjustice/GI_JOE_home.htm
Latest activity
[
]
Photos and videos are a great way to add visuals to your wiki. Find videos about your topic by exploring Wikia's Video Library.